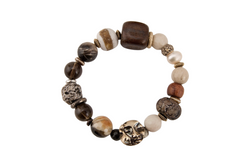 Karyn Chopik
The Lovers Bracelet
SKU: B2301-1
The sun and the moon are lovers-  constant companions in the sky. They watch over us. They allow for the plants to grow, the tides to flow and lovers to bloom.
This beaded stretch bracelet is a neutral coloured mix of vintage and modern beads sealed with a kiss by our brushed finish sun/moon slider.

• 1 x 13.75mm metal sun /moon
• 1 x 10mm x 15mm Tibetan Antiqued DZI bead

• 1 x 17mm agate bead
• 1 x 8mm bronze lava bead

• 1 x 12mm brown quartz crystal
• 2 x 12mm sterling silver beads

• 1 x 10mm vintage Krobu bead
• 1 x prehistoric mammoth stone bead
• Sterling silver and bronze spacer beads
• 1 x freshwater pearl
• 3mmx 6mm Nepalese handcrafted yak bone spacer beads
• 15mm wooden cube bead

Karyn Chopik Studio is made up of a team of talented Canadian artisans. Together we create high quality, luxury jewelry in the sterling silver, bronze, copper, and gold.
All of our work is handmade in British Columbia, Canada.
Our jewelry is handmade to order. Once your order is placed, we do our best to build your order and get it shipped as soon as possible. We will notify you when your order has shipped. For larger orders please allow us additional time to prepare your order.
See our full refund policy