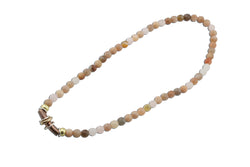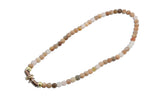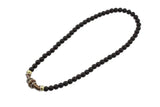 Karyn Chopik Studio
Candy Necklace
SKU: N2026
Our Candy Necklace is reminiscent of those old school candy necklaces that were popular in the 1950's. You could wear it around your neck and then eat it...a crazy notion that caught on!
Ours is a bit more snappy with gorgeous gemstones and Karyn Chopik's signature mixed metals! It is on a stretch elastic that slips comfortably over your head or can be triple wrapped around your wrist (for average sized wrists.) It will quickly become your fav "go to" necklace- so grounding and comforting to wear and a pop of eye candy to make you smile! Disclaimer: Please don't eat it!
20" long
30mm long x 8mm wide hand made copper tube
2x 8mm brass beads
1x 12mm diameter bronze slider centre ring
4x sterling silver slider rings
59 x 8mm gemstone beads
Karyn Chopik Studio is made up of a team of talented Canadian artisans. Together we create high quality, luxury jewelry in the sterling silver, bronze, copper, and gold.
All of our work is handmade in British Columbia, Canada.
Our jewelry is handmade to order. Once your order is placed, we do our best to build your order and get it shipped as soon as possible. We will notify you when your order has shipped. For larger orders please allow us additional time to prepare your order.
See our full refund policy