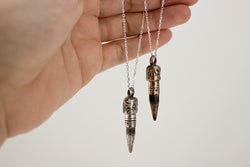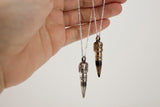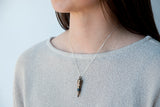 Karyn Chopik
The Creative Necklace
SKU: N2310-1
From pencil to paper...
Through our failures and successes this is where the dreams and the magic begin. Whether you are an artist, a writer, or a professional who thinks outside the box this piece is for you!

If Karyn Chopik Studio could have one iconic piece, this IS it.
It began with an idea and it ended with a piece of luxury jewellery, The Creative.
A Message from Karyn:
When I was a child, I used to sit in my room for hours on end and draw. It was my private sanctuary, an imaginary world where anything was possible. I love the feeling of a pencil in my hand, the sound it makes touching the paper and bridging the gap between ideas and reality.


 Sterling Silver or Bronze Pencil hand carved out of wax (40mm)
1.1mm Anchor Chain
2" tail for adjusting length.
Karyn Chopik Studio is made up of a team of talented Canadian artisans. Together we create high quality, luxury jewelry in the sterling silver, bronze, copper, and gold.
All of our work is handmade in British Columbia, Canada.
Our jewelry is handmade to order. Once your order is placed, we do our best to build your order and get it shipped as soon as possible. We will notify you when your order has shipped. For larger orders please allow us additional time to prepare your order.
See our full refund policy