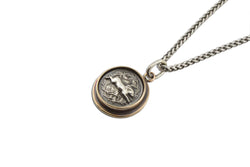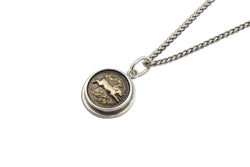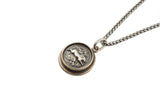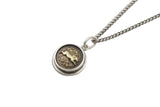 Karyn Chopik
The Hare Necklace
SKU: N2021-1
The Hare Necklace
Our lovely little hare is cast from an exquisitely detailed metal button from the 1940's. Many cultures across the world have honored the spirit of the hare. The hare represents spontaneity, courage, adventure and creativity. The hare is also a sign of spring and with it the coming of Easter.
Life is an adventure about to unfold. With her as your companion it is bound to be fun!
18.5mm vintage hare bronze or sterling silver casting
22.5mm bronze or sterling silver bezel
11mm L x 8mm wide sterling silver bale
1/8" thick antiqued silver or bronze rope chain 16" long with 2" tail
Karyn Chopik Studio is made up of a team of talented Canadian artisans. Together we create high quality, luxury jewelry in the sterling silver, bronze, copper, and gold.
All of our work is handmade in British Columbia, Canada.
Our jewelry is handmade to order. Once your order is placed, we do our best to build your order and get it shipped as soon as possible. We will notify you when your order has shipped. For larger orders please allow us additional time to prepare your order.
See our full refund policy