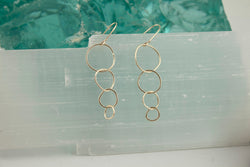 Karyn Chopik Studio
Rings Of Jupiter
SKU: GOLD06
Just like the rings of Jupiter our dreamy 10k yellow gold earrings also have 4 rings! AND like all our product these beauties are 100% made by hand right down to the Shepherd hooks. Our goldsmith pours a bar of gold, then pulls the wire and shapes the rings - each one being slightly irregular. #old school #craftsmanship #madewithlove.
.95mm thick 10k yellow gold wire links
Total length 65mm
Link diameters ( from top to bottom) : 18mm,15mm, 12mm, 8.5mm
Karyn Chopik Studio is made up of a team of talented Canadian artisans. Together we create high quality, luxury jewelry in the sterling silver, bronze, copper, and gold.
All of our work is handmade in British Columbia, Canada.
Our jewelry is handmade to order. Once your order is placed, we do our best to build your order and get it shipped as soon as possible. We will notify you when your order has shipped. For larger orders please allow us additional time to prepare your order.
See our full refund policy