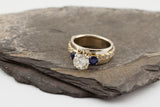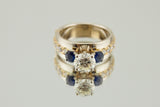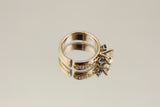 Karyn Chopik
Shelley Ring
Commission Enquiry
We have the coolest clients!
Shelley heard about us through the Lion's Gate Chorus that she sings with. On top of being a singer, Shelley also practices martial arts! We love a woman with diverse tastes.
Despite being young, she unfortunately has arthritis in her knuckles and can no longer wear many of her favorite rings. But luckily, that's something we can help with!
We used her existing diamonds and sapphires and created this sophisticated 18k white and yellow gold ring. But what makes this ring even more special, is that is was built with an "arthritic shank", a hinge in the band allowing Shelley to open it up and slip it over her finger, avoiding the knuckle altogether.
Now she can't believe she owns such a spectacular ring that she can always wear, arthritis be damned!
Karyn Chopik Studio is made up of a team of talented Canadian artisans. Together we create high quality, luxury jewelry in the sterling silver, bronze, copper, and gold.
All of our work is handmade in British Columbia, Canada.
Our jewelry is handmade to order. Once your order is placed, we do our best to build your order and get it shipped as soon as possible. We will notify you when your order has shipped. For larger orders please allow us additional time to prepare your order.
See our full refund policy