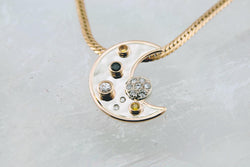 Karyn Chopik
Subah's Pendant
Commission Enquiry
Another heartfelt family tree piece commissioned by a great customer and one of Karyn's closest friends.
Subah had a very clear idea what she wanted-
something to match a special ring we did for her a few years back.
What we came up with was a stunning moon pendant in 14k white gold with yellow gold bezels and a yellow gold frame.
We used her Grandmother's, Aunt's and Mother's existing diamonds, two yellow topaz and sapphire.
This beautiful moon pendant has "Mom" etched on the back, and a sprinkling of her ashes housed behind the diamond cluster.
She can now have her mom even closer to her heart each time she wears this meaningful necklace.
Karyn Chopik Studio is made up of a team of talented Canadian artisans. Together we create high quality, luxury jewelry in the sterling silver, bronze, copper, and gold.
All of our work is handmade in British Columbia, Canada.
Our jewelry is handmade to order. Once your order is placed, we do our best to build your order and get it shipped as soon as possible. We will notify you when your order has shipped. For larger orders please allow us additional time to prepare your order.
See our full refund policy