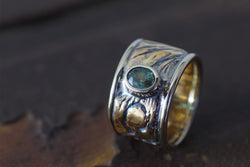 Karyn Chopik
Sydney Ring
Commission Enquiry
This one of a kind ring was created for a well known local artist named Sydney Smith. Her own stunning alexandrite was set in a 14k white gold bezel- the ring itself is hand-carved 14k yellow gold, with 14k white gold rings around the outside. The mixed gold colours add to the truly unique and artistic look of this amazing ring!
In this photo the stone appears to be green, but alexandrite actually has colour shifting properties allowing it to look anything from green to purple in different light.
This ring is a perfect example of why Karyn Chopik jewelry isn't just jewelry, it's art.
Thanks so much Sydney for giving us the opportunity to work on this very special commission!
14k yellow gold band
14k white gold accent bands and bezel
Alexandrite stone
Karyn Chopik Studio is made up of a team of talented Canadian artisans. Together we create high quality, luxury jewelry in the sterling silver, bronze, copper, and gold.
All of our work is handmade in British Columbia, Canada.
Our jewelry is handmade to order. Once your order is placed, we do our best to build your order and get it shipped as soon as possible. We will notify you when your order has shipped. For larger orders please allow us additional time to prepare your order.
See our full refund policy