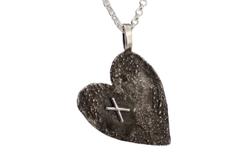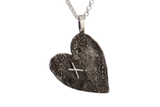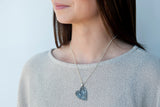 Karyn Chopik
Cross My Heart
SKU: N2302-1
We create a new heart piece each year. Some have even withheld the test of time like our Weathered Heart style P11 that has been selling strong since 2000!
This season behold our latest edition to the heart family; Cross My Heart, a fire torched melted heart with a high polished X.

We all know the saying "Cross my heart and hope to die." It's meaning is, "my word is a bond that will not be broken. I've got your back." Perhaps you are a safe and reliable ear for others or maybe you appreciate the advise your confident offers.
The closest distance between two people is the heart. X marks the spot.

45mm long x 28mm wide heart
1.6mm thick heart molten on both sides

3mm sterling silver rolo chain @ 2" tail
Karyn Chopik Studio is made up of a team of talented Canadian artisans. Together we create high quality, luxury jewelry in the sterling silver, bronze, copper, and gold.
All of our work is handmade in British Columbia, Canada.
Our jewelry is handmade to order. Once your order is placed, we do our best to build your order and get it shipped as soon as possible. We will notify you when your order has shipped. For larger orders please allow us additional time to prepare your order.
See our full refund policy