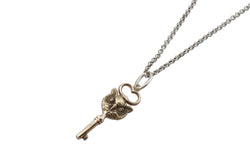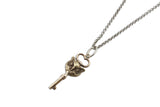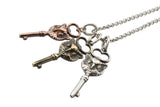 Karyn Chopik Studio
Wisdom Key Necklace
SKU: N2023
It is believed that within each woman there exists three faces of divine feminine energy: the maiden, the mother and the matriarch. Our wise old owl is the personification of the matriarch. The legend of the owl dates back to ancient cultures. The Greek Goddess of wisdom Athena is often portrayed with an animal totem of the owl at her side. Whether you are young or well seasoned the wisdom of owl resides within, a gift waiting to be shared with others.
Our wise owl is cast from a vintage button from the 1940's and the key is part of an antique church key from the 1800's!
40mm long bronze or sterling silver key

3mm wide sterling silver rolo chain with a 2" tail

Karyn Chopik Studio is made up of a team of talented Canadian artisans. Together we create high quality, luxury jewelry in the sterling silver, bronze, copper, and gold.
All of our work is handmade in British Columbia, Canada.
Our jewelry is handmade to order. Once your order is placed, we do our best to build your order and get it shipped as soon as possible. We will notify you when your order has shipped. For larger orders please allow us additional time to prepare your order.
See our full refund policy