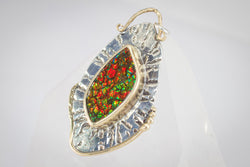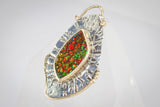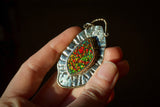 Karyn Chopik
Cathedral Pendant
SKU: GOLD18
Sometimes a stone speaks to Karyn. When she first laid eyes on this spectacular specimen of Ammolite she immediately sketched out the original concept without thinking twice!
Working closely with our talented in-house goldsmith the vision unfolded as he framed the stone in a hand constructed 14k yellow gold bezel and sterling silver body.
The magical pendant looks like a stain glassed window in some ancient cathedral.
In native tradition Ammolite was believed to hold great powers assisting in the hunting of buffalo.

In Feng Shui the ruby red, emerald green and amber yellow colours are the most sought after. They represent Growth, wisdom and wealth.
Ammolite is a fossilized shell of 75 million year old sea creature called ammonites. What makes it so rare is that it is only found in one place in the world- the Rocky Mountains in southern Alberta. The most valuable ones have 3 or more colour shifts called the chromatic shift. Our little "cathedral" has colours that flash from red, green, to yellow orange and even blue!


Who ever ends up with "Cathedral " will be very lucky indeed!
Sterling silver
14k yellow gold bezel
Ammolite stone
Karyn Chopik Studio is made up of a team of talented Canadian artisans. Together we create high quality, luxury jewelry in the sterling silver, bronze, copper, and gold.
All of our work is handmade in British Columbia, Canada.
Our jewelry is handmade to order. Once your order is placed, we do our best to build your order and get it shipped as soon as possible. We will notify you when your order has shipped. For larger orders please allow us additional time to prepare your order.
See our full refund policy