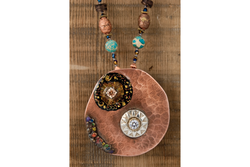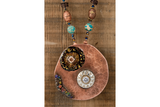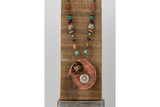 Karyn Chopik Studio
Superstition Mountains
SKU: Oak2023N13
Inspired by a recent trip to the magical Superstition Mountains in Mesa Arizona, I was moved by the still beauty of the desert. I also marvelled at the grit of the first nation inhabitants and early settlers trying to capture their spirit in this one of a kind creation.

20" long, hand knotted beads with antiqued bronze chain

59mm tooled copper disk with sterling silver, cubic zirconia and bronze painted pebbles
2 x 8mm turquoise beads
2 x 9mmx 4.5mm turquoise washers
2 x Ethiopian vintage prayer bead
2 x Fossilized prehistoric Stegodon ( elephant)
2 x colour changing mood beads
2 x Goldstone oval beads
2 x vintage copper beads
Assorted sterling silver and bronze washers
Karyn Chopik Studio is made up of a team of talented Canadian artisans. Together we create high quality, luxury jewelry in the sterling silver, bronze, copper, and gold.
All of our work is handmade in British Columbia, Canada.
Our jewelry is handmade to order. Once your order is placed, we do our best to build your order and get it shipped as soon as possible. We will notify you when your order has shipped. For larger orders please allow us additional time to prepare your order.
See our full refund policy