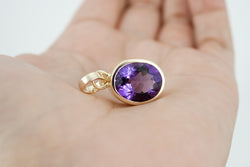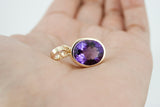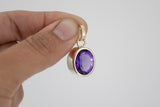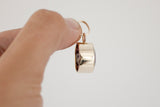 Karyn Chopik Studio
The Crown Jewel Pendant
SKU: GOLD2022-1
Nothing is more regal than a bright clear indigo Amethyst! In the 19th century Amethyst was considered as valuable as Sapphires, Rubies and Emeralds. Royalty revered Amethyst making her the star jewel in their crown. On an esoteric level Amethyst is the gemstone associated with the third eye chakra providing clarity, a balance of reasoning and our favourite divine fem quality- intuition. This breathtaking faceted Amethyst is rated AAA quality weighing 8.5 grams and is surrounded by a heavy 10k yellow gold hand constructed bezel.
14.5mm x 5mm faceted AAA Amethyst
16.63mm x 9.05mm 10k yellow gold bezel
2.35mm wide x 9.25mm long bale @ 6.5mm opening
Karyn Chopik Studio is made up of a team of talented Canadian artisans. Together we create high quality, luxury jewelry in the sterling silver, bronze, copper, and gold.
All of our work is handmade in British Columbia, Canada.
Our jewelry is handmade to order. Once your order is placed, we do our best to build your order and get it shipped as soon as possible. We will notify you when your order has shipped. For larger orders please allow us additional time to prepare your order.
See our full refund policy