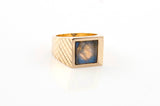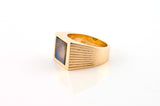 Karyn Chopik
A Fathers Ring
Commission Enquiry
Once upon a time a beautiful young woman was given her Dad's signet ring he wore as a young man. It adorned her finger for many years until one day it was stolen from her on a trip through through South East Asia.
She thought about that ring often, missing it very much. Finally, 5 years later, she approached us to recreate it. Karyn worked closely with her and sketched the ring going on only the client's memory and a few vague photos. We built it in 10k yellow gold with a dazzling labradorite, and she was so pleased with the results! She said it is a stepped up version of the original and is so happy she can wear it on her finger again!
Signet rings are always cool, whether they're being worn by a man or a woman. This versatile ring style will always make a statement!
Karyn Chopik Studio is made up of a team of talented Canadian artisans. Together we create high quality, luxury jewelry in the sterling silver, bronze, copper, and gold.
All of our work is handmade in British Columbia, Canada.
Our jewelry is handmade to order. Once your order is placed, we do our best to build your order and get it shipped as soon as possible. We will notify you when your order has shipped. For larger orders please allow us additional time to prepare your order.
See our full refund policy