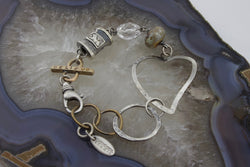 Karyn Chopik Studio
A Lion's Heart
SKU: Oak3010
This one of a kind represents a heart that never gives up, just like the strongest feline in the jungle. She who is drawn to Lion's Heart is brave beyond words, fearless and loyal to the core. Let me hear you roar sister!
sterling silver
bronze
faceted quartz crystal
Grecian agate
Karyn Chopik Studio is made up of a team of talented Canadian artisans. Together we create high quality, luxury jewelry in the sterling silver, bronze, copper, and gold.
All of our work is handmade in British Columbia, Canada.
Our jewelry is handmade to order. Once your order is placed, we do our best to build your order and get it shipped as soon as possible. We will notify you when your order has shipped. For larger orders please allow us additional time to prepare your order.
See our full refund policy