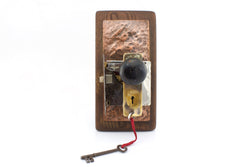 Karyn Chopik
A New Door Opening
SKU: ART1
One day as Karyn and her sister took a gentle walk through the forest, they discovered a discarded door knob encrusted with mud and debris. It inspired her. Where did it come from? How many hands had touched it throughout it's history? Was it once the gateway to a beloved home, or did it belong on some hotel door as a handle for wayfarers and travellers?
What had once been discarded, would now be repurposed into a beautiful piece of art. Karyn cleaned it up and built a frame for it to sit inside. It was then accented with her signature textured mixed metals, and finished with braided silk rope and an antique church key.
All you have to do is turn the handle, you never know where that door may lead.
Karyn Chopik Studio is made up of a team of talented Canadian artisans. Together we create high quality, luxury jewelry in the sterling silver, bronze, copper, and gold.
All of our work is handmade in British Columbia, Canada.
Our jewelry is handmade to order. Once your order is placed, we do our best to build your order and get it shipped as soon as possible. We will notify you when your order has shipped. For larger orders please allow us additional time to prepare your order.
See our full refund policy