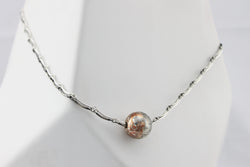 Karyn Chopik
A Quiet Mind Necklace
SKU: OAK2017
Commission Enquiry
During difficult times, sometimes the best thing is to have A Quiet Mind, and this necklace is pure zen tranquility. The hand forged bead is made using the Japanese "Mokume-gane" technique, which is a type of metalworking that fuses different types of precious metals to create a beautiful, entirely unique new piece of art. Embrace the zen with the A Quiet Mind Necklace- a quiet mind is an awakened heart. 
Hand forged Mokume-gane bead in sterling silver and copper
Sterling silver double chains
Sterling silver clasp and tail
18" total length 
Karyn Chopik Studio is made up of a team of talented Canadian artisans. Together we create high quality, luxury jewelry in the sterling silver, bronze, copper, and gold.
All of our work is handmade in British Columbia, Canada.
Our jewelry is handmade to order. Once your order is placed, we do our best to build your order and get it shipped as soon as possible. We will notify you when your order has shipped. For larger orders please allow us additional time to prepare your order.
See our full refund policy