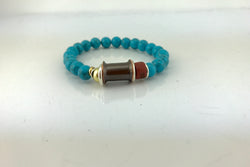 Karyn Chopik Studio
Love Token
SKU: OAK3067
The belief that turquoise brings it's wearer healing, protection, and wisdom has been shared in many ancient cultures from the First Nations, to Persians, and the Greek civilization. Turquoise is revered and worn by Tibetans dating back to 1000 BC. It is said that if it is gifted by someone with love the properties are enhanced even more and that it is a Love Token.
Mixed with our own hand forged copper center bead the balance is lovely. Gift this one of a kind stretch bracelet to someone you love or gift it to yourself to get through these difficult times, after all, a pop of color will put a smile on your wrist!
8mm stabilized turquoise beads
15mm x 13mm hand forged copper center bead
Vintage bauxite bead circa 1870's
8mm brass bead
Sterling silver rings
Karyn Chopik Studio is made up of a team of talented Canadian artisans. Together we create high quality, luxury jewelry in the sterling silver, bronze, copper, and gold.
All of our work is handmade in British Columbia, Canada.
Our jewelry is handmade to order. Once your order is placed, we do our best to build your order and get it shipped as soon as possible. We will notify you when your order has shipped. For larger orders please allow us additional time to prepare your order.
See our full refund policy