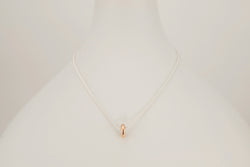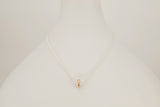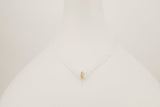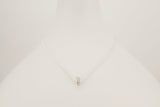 Karyn Chopik Studio
Token Of Love Necklace
SKU: N2109-1
Our Token Of Love Necklace  not only goes with everything, but it will also help you feel grounded! There is a nice weight to the organic carved little cheerios that look like nuggets of gold. Each cheerio could represent someone in your life you have special connection with, available in 10 karat rose gold, yellow gold or white gold.
If you would like additional cheerios added to this necklace, please click here.

9mm in diameter x 2.8 thick cheerio
18" 1.7mm sterling silver pebble chain
Sterling silver clasp and tail
Karyn Chopik Studio is made up of a team of talented Canadian artisans. Together we create high quality, luxury jewelry in the sterling silver, bronze, copper, and gold.
All of our work is handmade in British Columbia, Canada.
Our jewelry is handmade to order. Once your order is placed, we do our best to build your order and get it shipped as soon as possible. We will notify you when your order has shipped. For larger orders please allow us additional time to prepare your order.
See our full refund policy