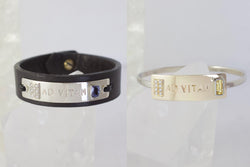 Karyn Chopik
Ad Vitam Bracelets
SKU: GOLD40
Commission Enquiry
These bracelets were created for two beautiful women to celebrate their 10 year anniversary together.
On their wedding day the words "Ad Vitam" was written on their invitations, which in latin means "for life".
They used the diamonds from both their family members jewelry to add to their pieces. They wanted their love to be with them always.
The cuff is handmade in leather, with 14k white gold, royal purple sapphire, and cherished family diamonds.
The bangle is 14k white and yellow gold with a sunshine yellow sapphire and cherished family diamonds.
There are many definitions of Family. It is a sacred bond that lives on even after they are no longer with us.
"Where there is love there is life." — Mahatma Gandhi
Leather cuff
14k white gold
14k yellow gold
Diamonds
Sapphires
Karyn Chopik Studio is made up of a team of talented Canadian artisans. Together we create high quality, luxury jewelry in the sterling silver, bronze, copper, and gold.
All of our work is handmade in British Columbia, Canada.
Our jewelry is handmade to order. Once your order is placed, we do our best to build your order and get it shipped as soon as possible. We will notify you when your order has shipped. For larger orders please allow us additional time to prepare your order.
See our full refund policy