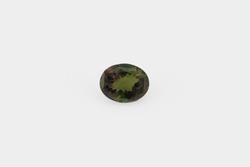 Karyn Chopik Studio
Alexandrite #17
This gemstone is available to be used in a custom commissioned piece. If you are interested please enquire through our website.
Commission Enquiry
The powerful Alexandrite is the birthstone for the month of June. It is said to bring about transformation, feelings of inner worth and a sense of love and gratitude for all beings. Alexandrite changes color depending on the viewers angle or the type of light it is held under. This beautiful specimen color shifts from green to purple! It was discovered in Russia in the 1830s, and named after the Tsar Alexander II. Alexandrite is a member of the chrysoberyl family and one of the rarest gemstones on earth. 
Karyn Chopik Studio is made up of a team of talented Canadian artisans. Together we create high quality, luxury jewelry in the sterling silver, bronze, copper, and gold.
All of our work is handmade in British Columbia, Canada.
Our jewelry is handmade to order. Once your order is placed, we do our best to build your order and get it shipped as soon as possible. We will notify you when your order has shipped. For larger orders please allow us additional time to prepare your order.
See our full refund policy