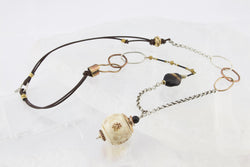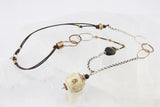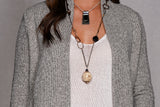 Karyn Chopik
Easy Rider Necklace
SKU: OAK2001
This funky One of a Kind hand forged metal link and brown leather necklace has an easy casual feel. Karyn acquired the etched horn bead at a vintage shop in New York on one of her trips. It's engraving tells a story of a time when ancient China was rich with tradition and meaning. The brown agate bead is from Karyn's personal collection. It's alluring soft glow makes it a focal point of interest.
Casual but cool, Easy Rider is perfect for the woman who loves to drive through life with the top down.
30" long
30mm hand carved vintage horn bead
30mm x 25mm waffled agate bead
2 panels of sterling silver, copper and bronze link chains
8mm wire wrapped brass bead
handmade organic bronze metal bits
80mm long glass tube beads with brushed gold colored balls

2mm thick brown Greek leather
Karyn Chopik Studio is made up of a team of talented Canadian artisans. Together we create high quality, luxury jewelry in the sterling silver, bronze, copper, and gold.
All of our work is handmade in British Columbia, Canada.
Our jewelry is handmade to order. Once your order is placed, we do our best to build your order and get it shipped as soon as possible. We will notify you when your order has shipped. For larger orders please allow us additional time to prepare your order.
See our full refund policy