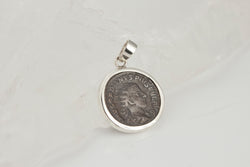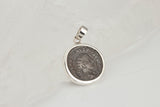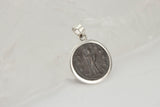 Karyn Chopik Studio
Antoninianus
SKU: Oak20216
This interesting coin is set in a sterling silver bezel to showcase both the front and the back of the coin. Our research indicates that this coin was minted around 211 A.D. It is named after M. Aurelius Antoninus "Caracalla." This coin shows the Emperor wearing a radiate crown as opposed to the typical laurel wreath. On the back is a person holding a staff and an object that looks like a book. We say person because often the Emperor would pay homage to his wife on the back.

We can not determine if the coin is coin silver or bronze. They minted in both metals.
sterling silver bezel and coin 25mm diameter
total length including bezel 36mm long
Karyn Chopik Studio is made up of a team of talented Canadian artisans. Together we create high quality, luxury jewelry in the sterling silver, bronze, copper, and gold.
All of our work is handmade in British Columbia, Canada.
Our jewelry is handmade to order. Once your order is placed, we do our best to build your order and get it shipped as soon as possible. We will notify you when your order has shipped. For larger orders please allow us additional time to prepare your order.
See our full refund policy