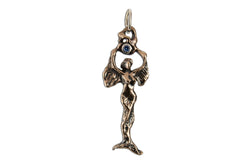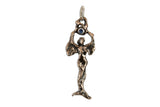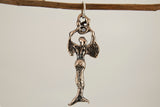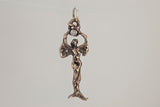 Karyn Chopik
Aurora
SKU: P2100-1
This is Karyn's first piece she brought to life in wax, meticulously carving both front and back.  After 21 years we are excited to revive this iconic piece of wearable art and that she is heralding in the Fall 2021 collection called Aurora!
Aurora is Goddess of the Dawn. She rides on the wind and is the first to spread light into the world painting the dark evening sky with a plethora of colour. She is also an inspiration to writers and artists. With these challenging past two years behind us - we welcome the light!
Aurora is holding a dazzling cubic zirconia gemstone over her head.  This piece along with others in the Fall 2021 collection are bezel set where our goldsmith folds the metal over the stone elevating it to a whole new level.

Custom stones are always available so please feel free to contact us by email for all inquiries customerservice@karynchopik.com
80mm total length
4mm sterling silver bezel
4mm bezel set cubic zirconia
Karyn Chopik Studio is made up of a team of talented Canadian artisans. Together we create high quality, luxury jewelry in the sterling silver, bronze, copper, and gold.
All of our work is handmade in British Columbia, Canada.
Our jewelry is handmade to order. Once your order is placed, we do our best to build your order and get it shipped as soon as possible. We will notify you when your order has shipped. For larger orders please allow us additional time to prepare your order.
See our full refund policy