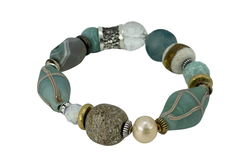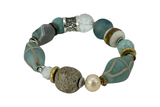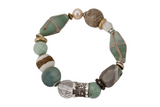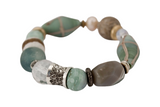 Karyn Chopik
Ooh La La!
SKU: B2304
Wear Moments In Time with this charismatic bracelet;  a fun mix of vintage and modern bits and baubles!
What's not to love, from a fossilized prehistoric mammoth stone bead, to powerful French cross beads, and our own exclusive metal slider bead, arouse your senses each time you look at your gorgeous wrist and say " Ooh La La! "
2 x 27mm French cross beads
1 x 17mm agate bead
1 x 12.5mm sterling silver slider
1 x 12mm faceted quartz crystal
1 x 12mm recycled beach glass
1 x 10mm vintage Krobu bead
1 x prehistoric mammoth stone bead
Sterling silver and bronze spacer beads
1 x freshwater pearl
2 x faceted Amazonite beads
Karyn Chopik Studio is made up of a team of talented Canadian artisans. Together we create high quality, luxury jewelry in the sterling silver, bronze, copper, and gold.
All of our work is handmade in British Columbia, Canada.
Our jewelry is handmade to order. Once your order is placed, we do our best to build your order and get it shipped as soon as possible. We will notify you when your order has shipped. For larger orders please allow us additional time to prepare your order.
See our full refund policy