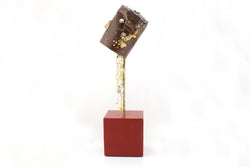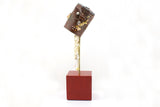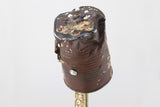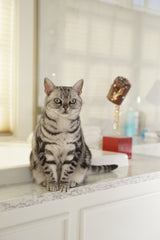 Karyn Chopik
Because I Can
SKU: ART4
This unique piece of handmade art speaks of many things to different people.
Originally a rusted tin can, now transformed with 14k gold filled chains, cubic zirconia, and a freshwater pearl waterfall. It was discovered at a scrap metal yard, used to cover a pipe so rainwater could not run in. And there it sat, for decades.
The moment Karyn saw it, she had a clear vision of what she was going to do. What was discarded would now return to the world as art.
The contrast of yin & yang is classic Karyn. Texture in opposition to high polish, dilapidated objects weathered by time, now wrapped in luxury.
"Why would anyone do this? Because I can!"
-Karyn Chopik
17" tall x 4" wide
Repurposed tin can
14k gold fill chain
Swarovski crystal
Freshwater pearls
Karyn Chopik Studio is made up of a team of talented Canadian artisans. Together we create high quality, luxury jewelry in the sterling silver, bronze, copper, and gold.
All of our work is handmade in British Columbia, Canada.
Our jewelry is handmade to order. Once your order is placed, we do our best to build your order and get it shipped as soon as possible. We will notify you when your order has shipped. For larger orders please allow us additional time to prepare your order.
See our full refund policy