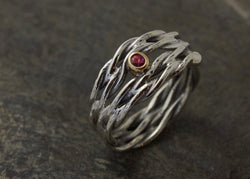 Karyn Chopik
Brenda Ring
SKU: GOLD5
Commission Enquiry
We often hear, "I've been looking for a ring like this for forever!"
One thing Karyn Chopik Studio does best is unique ring designs, and that's exactly what this customer had been wanting. For years she'd dreamed of getting a ring with her birthstone, a ruby, and for Christmas her family offered to buy one for her. Karyn showed her the magical tray of gemstones, and the customer fell in love with a stone she never expected: the Padparadscha. Padparadscha is actually a type of very rare sapphire. It only comes from a few places in the world, in very unique shades of pink. Technically speaking, sapphires and rubies are from the same family of gemstones, and the only real difference is the colour. If this stone was less pink and more red, it would actually be considered a ruby! So, the customer really was able to get the ruby she always wanted, it just has a different name.
The ring band is sterling silver, with the bezel in 14k yellow gold. The customer was ecstatic, and we were so happy we were able to make her dreams come true!
Sterling silver twisted ring band

14k yellow gold bezel

Padparadscha sapphire
Karyn Chopik Studio is made up of a team of talented Canadian artisans. Together we create high quality, luxury jewelry in the sterling silver, bronze, copper, and gold.
All of our work is handmade in British Columbia, Canada.
Our jewelry is handmade to order. Once your order is placed, we do our best to build your order and get it shipped as soon as possible. We will notify you when your order has shipped. For larger orders please allow us additional time to prepare your order.
See our full refund policy