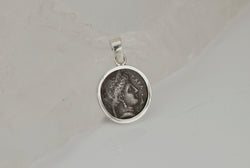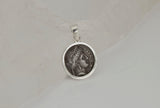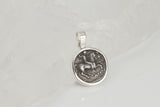 Karyn Chopik Studio
Calabria Tarentum
SKU: Oak20215
This Ancient Greek coin estimated circa 333 A.D. is set in a sterling silver bezel so that you can see the obverse side ( the side with the head) and the reverse side.
Our research determined that the head facing right may be that of Persephone; Queen of the underworld and Goddess of spring. She is wearing a stephanos or wreathe crown. She is also wearing a triple earring - our kind of woman! The words TAPA are to the right. There is a dolphin under her chin. On the reverse is a nude warrior on horseback, holding a spear and a shield on left arm. Probably running from her!
The material of the coin could be coin silver or bronze. It is hard to determine as they minted them in both metals.
sterling silver bezel set Greek coin 21mm diameter
30mm total length including bezel
Karyn Chopik Studio is made up of a team of talented Canadian artisans. Together we create high quality, luxury jewelry in the sterling silver, bronze, copper, and gold.
All of our work is handmade in British Columbia, Canada.
Our jewelry is handmade to order. Once your order is placed, we do our best to build your order and get it shipped as soon as possible. We will notify you when your order has shipped. For larger orders please allow us additional time to prepare your order.
See our full refund policy