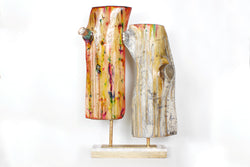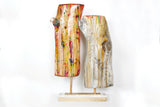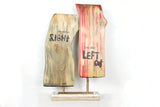 Karyn Chopik Studio
Careful, it Might be Contagious
SKU: ART5
Two almost human-like forms stand side by side, barely touching. One is dramatic and flamboyant, the other is classic, dressed in pearls and beige.
This piece can be seen as commentary on the divisions between polarized political lines- straight and gay, conservative and progressive, insiders and outsiders.
The vibrant colours, much like ideas, spill over...
Who knows what could happen.
Karyn Chopik Studio is made up of a team of talented Canadian artisans. Together we create high quality, luxury jewelry in the sterling silver, bronze, copper, and gold.
All of our work is handmade in British Columbia, Canada.
Our jewelry is handmade to order. Once your order is placed, we do our best to build your order and get it shipped as soon as possible. We will notify you when your order has shipped. For larger orders please allow us additional time to prepare your order.
See our full refund policy