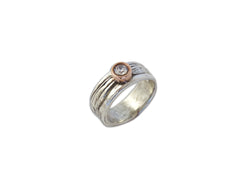 Karyn Chopik
Cedar Bark Ring
SKU: R1607-1
The Cedar Bark Ring has a style that will appeal to most minimalists and naturalists. This ring offers a simple profile, but the fine detailing makes it an organic work of art. This ring was originally carved out of wax and the cast into metal. We call this deeply textured style "Cedar bark" because it looks like the bark from a Giant Western Cedar. This piece is perfect for daily wear. 
8mm sterling silver or bronze cast ring
4mm sterling silver, rose bronze, or bronze bezel
4mm cubic zirconia crystal
Please note: this ring cannot be made any larger than a size 8
Karyn Chopik Studio is made up of a team of talented Canadian artisans. Together we create high quality, luxury jewelry in the sterling silver, bronze, copper, and gold.
All of our work is handmade in British Columbia, Canada.
Our jewelry is handmade to order. Once your order is placed, we do our best to build your order and get it shipped as soon as possible. We will notify you when your order has shipped. For larger orders please allow us additional time to prepare your order.
See our full refund policy