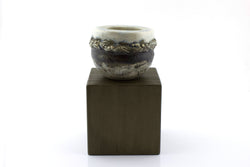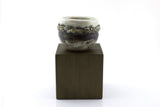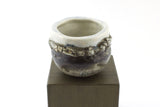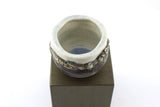 Karyn Chopik
Cliff Walls
SKU: ART6
Thrown clay.
Part of the Pathways series. Each journey begins with the first step.
The boulders on the facade of the bowl are jagged and rugged.
Created during the initial phase of COVID lockdown this bowl represents my internal struggle to overcome our ever changing and ever challenging social and emotional landscapes.
Karyn Chopik Studio is made up of a team of talented Canadian artisans. Together we create high quality, luxury jewelry in the sterling silver, bronze, copper, and gold.
All of our work is handmade in British Columbia, Canada.
Our jewelry is handmade to order. Once your order is placed, we do our best to build your order and get it shipped as soon as possible. We will notify you when your order has shipped. For larger orders please allow us additional time to prepare your order.
See our full refund policy