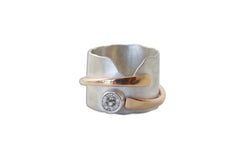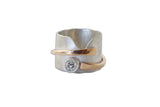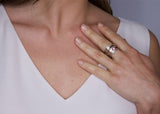 Karyn Chopik
Currents Ring
SKU: R1901-2
The Currents Ring is your answer to the question, "What ring should I wear today?"
The sculptural sterling silver band is accented with a shiny bronze ring around it, and finished with a sparkling cubic zirconia crystal. It's the only accessory you need if you want to make a statement. Or, better yet, stack it with your other favourite Karyn Chopik Studio rings. 
13mm wide textured sterling silver ring band 
Bronze wrapped wire
4mm sterling silver bezel
4mm cubic zirconia crystal
Karyn Chopik Studio is made up of a team of talented Canadian artisans. Together we create high quality, luxury jewelry in the sterling silver, bronze, copper, and gold.
All of our work is handmade in British Columbia, Canada.
Our jewelry is handmade to order. Once your order is placed, we do our best to build your order and get it shipped as soon as possible. We will notify you when your order has shipped. For larger orders please allow us additional time to prepare your order.
See our full refund policy