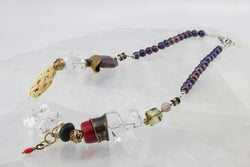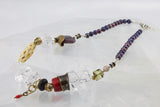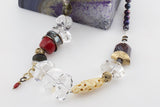 Karyn Chopik
Fashion Week Necklace
SKU: OAK2000
Commission Enquiry
This One of a Kind beauty was inspired by a trip to New York during Fashion Week. Karyn was scouring the streets of the garment district seeking quality treasures when she came upon a single strand of exquisite, chunky quartz nuggets. She had never seen such clarity in quartz beads before, especially ones of this size!
Fashion Week is chock full of specimen beads Karyn has been collecting for over 20 years mixed with her signature metal art components. It is a bold statement piece that screams "fashionista!" We love the splash of red with the addition of the coral bead. The pearls are hand knotted with silk thread, a trademark of true quality, also making it very comfortable to wear!
22" long with a 1.5" adjustable sterling silver chain
6 x clear quartz nuggets (22mmx 35mm each)
45mm long carved horn bead
Hand knotted "Peacock" purple-blue freshwater pearl side panels
Lemon quartz crystal
20mm x 25mm red coral barrel bead
30mm x 25mm Botswana faceted agate
Bronze casting of a vintage Chinese coin
Vintage black glass bead
Karyn Chopik Studio is made up of a team of talented Canadian artisans. Together we create high quality, luxury jewelry in the sterling silver, bronze, copper, and gold.
All of our work is handmade in British Columbia, Canada.
Our jewelry is handmade to order. Once your order is placed, we do our best to build your order and get it shipped as soon as possible. We will notify you when your order has shipped. For larger orders please allow us additional time to prepare your order.
See our full refund policy