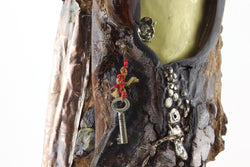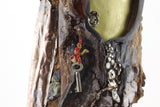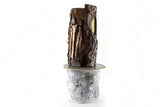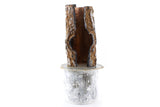 Karyn Chopik
Forget Me Knot
SKU: ART8

This found object a discarded piece of tree bark was carved and lined with hand tooled copper and brass insets, and embedded with sterling silver water droplets. A vintage European church key hangs from a braided string.
There is a mystery that inspired this creation.
The wood came from an area where there had been early rural homesteads. Much to my curiosity there were two tiny nails imbedded in the wood with a tiny string. The romantic in me wondered who did this and what was the purpose? Bark that was intended to be burned as kindling became the object of my artistic fascination. The wood spoke to me; as I started to carve it hearts and tears surfaced. It became clear that something special and intimate once hung from the tiny nails; perhaps a locket or tiny key.
A forget me knot, to a love lost.
10" tall x 5" wide
copper inlay
bronze inlay
sterling silver pebbles
vintage church key on braided string
cubic zirconia
Karyn Chopik Studio is made up of a team of talented Canadian artisans. Together we create high quality, luxury jewelry in the sterling silver, bronze, copper, and gold.
All of our work is handmade in British Columbia, Canada.
Our jewelry is handmade to order. Once your order is placed, we do our best to build your order and get it shipped as soon as possible. We will notify you when your order has shipped. For larger orders please allow us additional time to prepare your order.
See our full refund policy