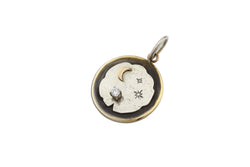 Karyn Chopik Studio
Great Conjunction
SKU: P2025
On December 2020 - two planets Jupiter and Saturn lined up appearing to be a double star glowing in the night sky. They were the closest they have been for 800 years. Incredible really. For some it marks a strong foothold into the Age Of Aquarius. This is a time where the rights and decisions of the individual bare precedence over the authority of the old guard.
Bring it on baby!  Even if you don't subscribe to this it's a pretty cute piece nonetheless!
32mm diameter bronze circle
24mm diameter sterling silver
4mm sterling silver prong setting
4mm cubic zirconia
bronze moon
total length including sterling silver bale 40mm
Karyn Chopik Studio is made up of a team of talented Canadian artisans. Together we create high quality, luxury jewelry in the sterling silver, bronze, copper, and gold.
All of our work is handmade in British Columbia, Canada.
Our jewelry is handmade to order. Once your order is placed, we do our best to build your order and get it shipped as soon as possible. We will notify you when your order has shipped. For larger orders please allow us additional time to prepare your order.
See our full refund policy