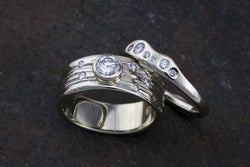 Karyn Chopik
Jeanette Ring
Commission Enquiry
Jeanette came to us with a very touching story. She'd been looking for years to find a jeweller to create some special pieces for her, and when she saw our work, she said it just felt right.
Her husband unfortunately passed away a year ago. Over their years together, he had purchased jewelry for her in their travels, however much of it had become very outdated. The jewelry represented more than metal and stones, it represented a lifetime of memories they shared together. She wanted to be able to keep his energy with her wherever she went, so we used her stones to create beautiful new pieces that could fit with her current lifestyle.
The carved Tree Bark ring is 14k white gold with diamonds. It's simple, organic, and works with her "zen" personality. The second stacker ring can be worn as a set with the Tree Bark ring, or with her husband's gold wedding band that she never takes off.

Jeanette is a strong, grounded, and wise woman. We think these pieces are a beautiful representation of who she is.
"As an artist and jewelry maker , it is the greatest honour to be chosen to capture the essence of a lifetime of memories shared between loved ones.
When I do these sacred pieces I know in my heart I have arrived"
-Karyn Chopik
14k white gold
Customer's own diamonds
Karyn Chopik Studio is made up of a team of talented Canadian artisans. Together we create high quality, luxury jewelry in the sterling silver, bronze, copper, and gold.
All of our work is handmade in British Columbia, Canada.
Our jewelry is handmade to order. Once your order is placed, we do our best to build your order and get it shipped as soon as possible. We will notify you when your order has shipped. For larger orders please allow us additional time to prepare your order.
See our full refund policy