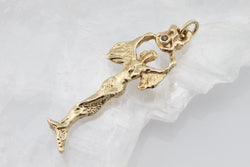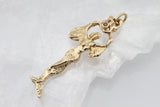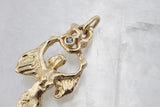 Karyn Chopik
Jen Pendant
SKU: GOLD13
Commission Enquiry
Another memorial piece in memory of a beautiful young woman's grandmother, who embodied all the courage and strength found in this piece.
As a young widow with a small boy, she needed to overcome many obstacles and became a career woman in the 60s. She was a very capable, self made woman- able to wield a saw and hammer as well as her baking utensils.
We melted her existing gold jewelry to create the beautiful mermaid in 10k yellow gold for her granddaughter, and then used a sparkling aquamarine (which was grandma's birthstone!) from one of the rings to set in the mermaid's hands. This is an extremely special piece, and we were honoured to make it.
This mermaid was the very first piece Karyn ever carved out of wax back in 2000. Over the years It seems to have become an archetype for the power found in women. One client even had her image tattooed on her leg!
"Water is the womb from which all life originated. Mermaid was present; Let her swim the shore of your mind and teach you stories of your grandmothers and their courage. Their spirits are alive in you. Mermaid's journey is your soul's journey. The power of all great women flows through you."
10k yellow gold mermaid, cast from an original carving by Karyn Chopik
Aquamarine stone
Karyn Chopik Studio is made up of a team of talented Canadian artisans. Together we create high quality, luxury jewelry in the sterling silver, bronze, copper, and gold.
All of our work is handmade in British Columbia, Canada.
Our jewelry is handmade to order. Once your order is placed, we do our best to build your order and get it shipped as soon as possible. We will notify you when your order has shipped. For larger orders please allow us additional time to prepare your order.
See our full refund policy