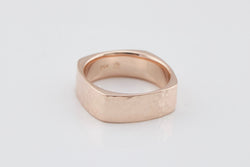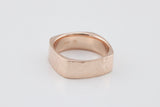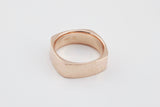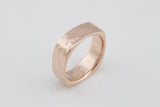 Karyn Chopik
Judy Ring
SKU: GOLD39
Commission Enquiry
Simplicity never goes out of style.
This handmade 14k red gold (that's right, RED gold!) wedding band is an excellent representation of when classic elegance and organic elements meet in perfect harmony. The gentle ballpeen texture catches the light, and the sculptural sides ensure this ring is nothing but perfectly comfortable. And when you're going to be wearing something for the rest of your life, comfort is paramount!
14k handmade red gold band
Karyn Chopik Studio is made up of a team of talented Canadian artisans. Together we create high quality, luxury jewelry in the sterling silver, bronze, copper, and gold.
All of our work is handmade in British Columbia, Canada.
Our jewelry is handmade to order. Once your order is placed, we do our best to build your order and get it shipped as soon as possible. We will notify you when your order has shipped. For larger orders please allow us additional time to prepare your order.
See our full refund policy