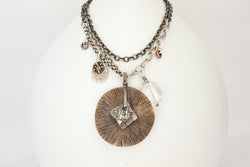 Karyn Chopik Studio
Karyn Chopik Retro
SKU: Oak202121
Sometimes it is fun to step back into our roots. Karyn Chopik Retro is just that.  This combination of handmade mixed metals in sterling silver and bronze is the style that Karyn started back in 2000 and it is still going strong today!  KC- Timeless Wearable Art!
Total length18" ( 14" with a 4 " adjustable tail )
Sterling silver and antiqued bronze plated chain
30mm L quartz crystal nugget
9mm copper cheerio
9mm bronze cheerio
25mm L sterling silver pebble with bronze halo
60mm diameter textured bronze and sterling silver pendant
Karyn Chopik Studio is made up of a team of talented Canadian artisans. Together we create high quality, luxury jewelry in the sterling silver, bronze, copper, and gold.
All of our work is handmade in British Columbia, Canada.
Our jewelry is handmade to order. Once your order is placed, we do our best to build your order and get it shipped as soon as possible. We will notify you when your order has shipped. For larger orders please allow us additional time to prepare your order.
See our full refund policy