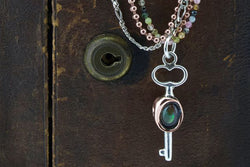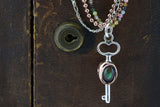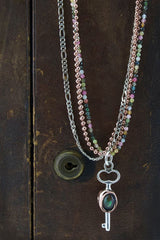 Karyn Chopik
Key To A New Door Opening Necklace
SKU: OAK2005
Commission Enquiry
This unique One of a Kind Necklace has a mysterious old world key dangling off the bottom of its four strand layered chain. The inside of the copper eye of the key is set with an oval Ammonite cabochon. Ammonite is one of the earth's rarest gemstones found only in Southern Alberta, Canada. The First Nations believed this scared stone aided in the hunt of the buffalo and brought good luck. Ammonite is also much sought after in Chinese Feng Shui as it brings health, wealth and fortune to the wearer.
May the new door you are about to open be guided by wisdom.
17" long with a  2" sterling silver adjustable tail
detachable 3mm faceted beaded tourmaline strand
2 strands of 2mm copper ball chain
3mm wide sterling silver Figaro style chain
55mm long hand made copper and sterling silver key
10mm x 6mm Ammonite cabochon
Karyn Chopik Studio is made up of a team of talented Canadian artisans. Together we create high quality, luxury jewelry in the sterling silver, bronze, copper, and gold.
All of our work is handmade in British Columbia, Canada.
Our jewelry is handmade to order. Once your order is placed, we do our best to build your order and get it shipped as soon as possible. We will notify you when your order has shipped. For larger orders please allow us additional time to prepare your order.
See our full refund policy