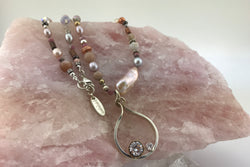 Karyn Chopik Studio
La Grande Jatte
SKU: OAK1313
Named after the famous French Impressionist painting by Seurat - La Grande Jatte shows elegant Parisians bathed in sunlight enjoying the day.  Our lovely one of a kind necklace has similar soft light properties. She is hand knotted with silk thread - a true sign of luxury. She wears soft pink freshwater pearls, crystals, moonstone, and soft grey agates. Karyn's work is best described as European elegance with a twist. This timeless piece deserves to be worn on the banks of the River Seine. When ever you wear her you can hear them whisper "tres'magnifique"
18" hand knotted silk necklace
freshwater pearls, moonstone,faceted Botswana agate, Rhodochrosite
copper tube beads, sterling silver spacer beads, 14k gold fill beads
hand forged 40mm x 25mm sterling silver teardrop
8mm cubic zirconia set in bronze bezel
4mm cubic zirconia set in sterling silver bezel
Karyn Chopik Studio is made up of a team of talented Canadian artisans. Together we create high quality, luxury jewelry in the sterling silver, bronze, copper, and gold.
All of our work is handmade in British Columbia, Canada.
Our jewelry is handmade to order. Once your order is placed, we do our best to build your order and get it shipped as soon as possible. We will notify you when your order has shipped. For larger orders please allow us additional time to prepare your order.
See our full refund policy