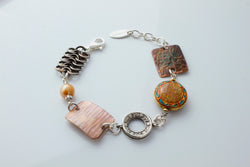 Karyn Chopik Studio
Life Saver Bracelet
SKU: Oak202112
I don't know about you but cool bling is often a life saver to get through the tough times! Bracelets are important because YOU can see them on your gorgeous wrist and say AHHH inside!
Our double sided lifesaver is cast from a button from the 1940's. It has a tradition floral pattern inside. The bronze metal rectangle is painted with acrylic and coated with sparkly resin. Life Saver is a wonderful mix of old and new!
hand tooled copper  rectangular dish 24mm L x 20mm W
Hand tooled bronze with sparkly resin 24mm L x 20mm W

9.5mm gold freshwater pearl
18mm double sided sterling silver "lifesaver"
21.25mm Vintage Cloisonne bead
25mm l x 17mm wide antiqued chainmaille link
Karyn Chopik Studio is made up of a team of talented Canadian artisans. Together we create high quality, luxury jewelry in the sterling silver, bronze, copper, and gold.
All of our work is handmade in British Columbia, Canada.
Our jewelry is handmade to order. Once your order is placed, we do our best to build your order and get it shipped as soon as possible. We will notify you when your order has shipped. For larger orders please allow us additional time to prepare your order.
See our full refund policy