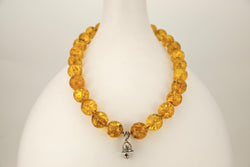 Karyn Chopik Studio
Liquid Light
SKU: OAK4
These exquisite amber beads are so brilliant they glow like a ray of light. Amber is basically liquid sunshine. It was created when light interacted with trees and they released their sap some 40 million years ago!
Our Baltic amber is from Poland. It's considered some of the best in the world.
It is found washed up along the shore after a long long snooze on the bottom of the sea.  Liquid Light is physically and energetically very light. Hand knotted it floats on your neck. You won't even know you are wearing it but it will make you feel protected, safe and full of smiles!
18" long with 2" sterling silver tail and clasp
24x 16mm hand knotted yellow amber beads
19.5mm Tibetan inspired sterling silver bell
One Of A Kind
Karyn Chopik Studio is made up of a team of talented Canadian artisans. Together we create high quality, luxury jewelry in the sterling silver, bronze, copper, and gold.
All of our work is handmade in British Columbia, Canada.
Our jewelry is handmade to order. Once your order is placed, we do our best to build your order and get it shipped as soon as possible. We will notify you when your order has shipped. For larger orders please allow us additional time to prepare your order.
See our full refund policy