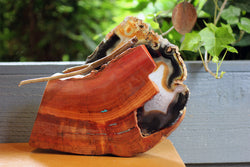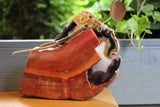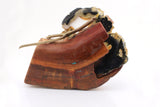 Karyn Chopik
Make a Wish
SKU: ART14
This 400 year old red cedar chunk was reclaimed from Beacon Hill Park, nestled on the ocean within Victoria's city limits. Sculpted with various carving tools this beautiful piece was stained, highlighted with coloured resin and bits of turquoise. A beautiful agate slab provides the backdrop.  A casting of a solid bronze twig perches on top like a giant wishbone.
Make A Wish is truly representative of the west coast of British Columbia.
Red Cedar is believed to be a tree of healing. I cannot think of a better time than now to wish for a disease-free planet.
Karyn Chopik Studio is made up of a team of talented Canadian artisans. Together we create high quality, luxury jewelry in the sterling silver, bronze, copper, and gold.
All of our work is handmade in British Columbia, Canada.
Our jewelry is handmade to order. Once your order is placed, we do our best to build your order and get it shipped as soon as possible. We will notify you when your order has shipped. For larger orders please allow us additional time to prepare your order.
See our full refund policy