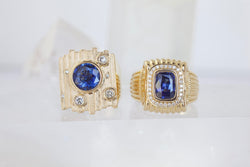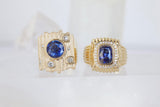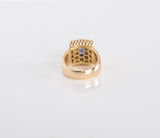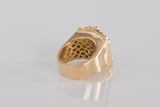 Karyn Chopik
Marriage Rings
SKU: GOLD35
Commission Enquiry
The day we have been waiting for has finally come- the unveiling of two very extraordinary custom designed wedding bands!
The journey began with a magical trip to Sri Lanka, where Karyn poured over hundreds of packets of sapphires, hand-picking two spectacular stones for clients in Vancouver.
Next was the design stage, where Karyn worked closely with the clients to design wedding bands that captured their inner essence.
The column ring, called "Delphi", was inspired by the client's recent trip to the Oracle of Delphi in Greece. This design represents the client's European heritage, and classic elegant style.
The second ring appropriately named "Building Blocks" was inspired by the client's love of architecture and building. The client had a clear vision of this ring. Karyn cut tiny bars in bronze and together we built the ring gluing piece by piece together like a puzzle making the mock up. It was an incredible process in cooperation and co creativity!
It was an honour to be able to design these beautiful, sacred rings.
18k yellow gold bands
Blue sapphires
Diamonds
Karyn Chopik Studio is made up of a team of talented Canadian artisans. Together we create high quality, luxury jewelry in the sterling silver, bronze, copper, and gold.
All of our work is handmade in British Columbia, Canada.
Our jewelry is handmade to order. Once your order is placed, we do our best to build your order and get it shipped as soon as possible. We will notify you when your order has shipped. For larger orders please allow us additional time to prepare your order.
See our full refund policy