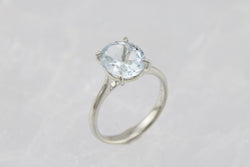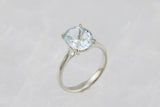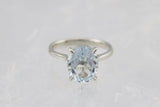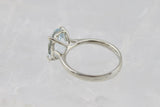 Karyn Chopik
Melissa Ring
SKU: GOLD14
Commission Enquiry
This exceptional 3.26 ct Aquamarine gemstone was chosen by a wonderful woman who is the true embodiment of all the qualities of this stone! Aquamarine represents feminine energy, calm and harmony.
This large 10.7x8.8 mm oval gemstone rests comfortably in a hand constructed 14k white gold setting. Melissa wanted something simple, yet elegant, so that the aquamarine would be the main feature.
Melissa is a mother of two young boys, and an extraordinary homemaker. (Her culinary skills and table settings could be in a magazine!) She has a healthy balance of work and home. She is a realtor, and is part of the Wilson Team real estate group. They helped Karyn purchase her studio many years ago! They are highly recommended, check them out for any of your real estate needs.

14k white gold band

10.7x8.8mm oval aquamarine 
Karyn Chopik Studio is made up of a team of talented Canadian artisans. Together we create high quality, luxury jewelry in the sterling silver, bronze, copper, and gold.
All of our work is handmade in British Columbia, Canada.
Our jewelry is handmade to order. Once your order is placed, we do our best to build your order and get it shipped as soon as possible. We will notify you when your order has shipped. For larger orders please allow us additional time to prepare your order.
See our full refund policy