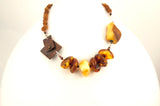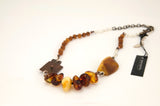 Karyn Chopik
Mellow Yellow
SKU: Oak2021N38
"Oh thing of beauty amber thou art,"  who doesn't love the feel of amber against your skin! It is feather light and warms up to the touch. Our amber is from the Baltic Sea in Poland known as some of the best amber in the world. The small frosted , hand knotted raw amber organic beads are very unusual, joined with mixed panels of sterling silver and antiqued bronze chain.

20" long with 2" sterling silver tail and clasp
two panels of 6mm raw amber beads hand knotted on black silk thread
3" panel, hand knotted 20mmx 12mm amber ( 6 total)
40mm x 30mm raw amber chunky nugget
40mm x 30mm copper swinging panel
Karyn Chopik Studio is made up of a team of talented Canadian artisans. Together we create high quality, luxury jewelry in the sterling silver, bronze, copper, and gold.
All of our work is handmade in British Columbia, Canada.
Our jewelry is handmade to order. Once your order is placed, we do our best to build your order and get it shipped as soon as possible. We will notify you when your order has shipped. For larger orders please allow us additional time to prepare your order.
See our full refund policy