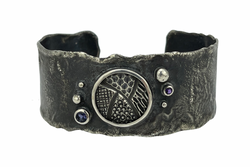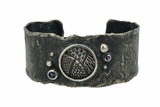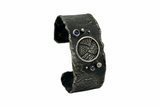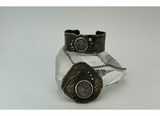 Karyn Chopik Studio
Mid Century Modern Cuff
SKU: oak2022510
Reminiscent of the Modernist jewellery from the 1970's, the deeply carved sterling silver medallion is bezel set against a rustic sterling silver cuff. The cuff is reticulated sterling silver which is an incredibly labour intensive process of slowly heating the silver to just about melting temperature with a torch then squelching or dipping it in water. Repeat 15 times! It creates wonderful results by bringing out the pure silver to the surface leaving craters and a molten lava flow like texture.

25mm wide reticulated sterling silver cuff

19mm hand tooled sterling silver medallion
3mm Amethyst set in sterling bezel
5mm Iolite gemstone set in sterling bezel
3 x sterling silver balls
Karyn Chopik Studio is made up of a team of talented Canadian artisans. Together we create high quality, luxury jewelry in the sterling silver, bronze, copper, and gold.
All of our work is handmade in British Columbia, Canada.
Our jewelry is handmade to order. Once your order is placed, we do our best to build your order and get it shipped as soon as possible. We will notify you when your order has shipped. For larger orders please allow us additional time to prepare your order.
See our full refund policy