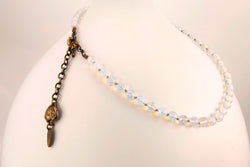 Karyn Chopik
Milky Way
SKU: Oak2021N37
This hand knotted Opalite beaded necklace shimmers like the Milky Way. The bronze tail with a bronze drop at the end has a small carving of a star on it. It is $365.00 just like the days in the year and a catchy price as well. We love symbolism!

20" hand knotted Opalite (8mm) with bronze toggle clasp
4" bronze tail with Star drop
Karyn Chopik Studio is made up of a team of talented Canadian artisans. Together we create high quality, luxury jewelry in the sterling silver, bronze, copper, and gold.
All of our work is handmade in British Columbia, Canada.
Our jewelry is handmade to order. Once your order is placed, we do our best to build your order and get it shipped as soon as possible. We will notify you when your order has shipped. For larger orders please allow us additional time to prepare your order.
See our full refund policy