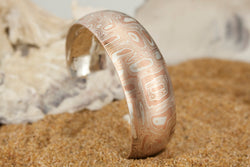 Karyn Chopik Studio
Mokume Gane Cuff
SKU: OAK202153
Mokume Gane is an ancient Japanese technique of fusing metals to create unique and detailed patterns.
"Mokume" means "Wood Grain" and "Gane" means "Metal".

It was first used in the 1700's as adornment for Samurai Swords. The masters used a special, secret technique that they passed down to their apprentice. After all these years, the process remains mostly the same. Our Mokume Gane sheet is made from a combination of Argentium Silver, copper and Shibuichi , giving it highly defined contrast. No two pieces will ever be the same! The beautiful pattern on our cuff will never wear off and the inside is a high polish Argentium Silver which will never tarnish!
1.1" domed  open back cuff
Karyn Chopik Studio is made up of a team of talented Canadian artisans. Together we create high quality, luxury jewelry in the sterling silver, bronze, copper, and gold.
All of our work is handmade in British Columbia, Canada.
Our jewelry is handmade to order. Once your order is placed, we do our best to build your order and get it shipped as soon as possible. We will notify you when your order has shipped. For larger orders please allow us additional time to prepare your order.
See our full refund policy